About Us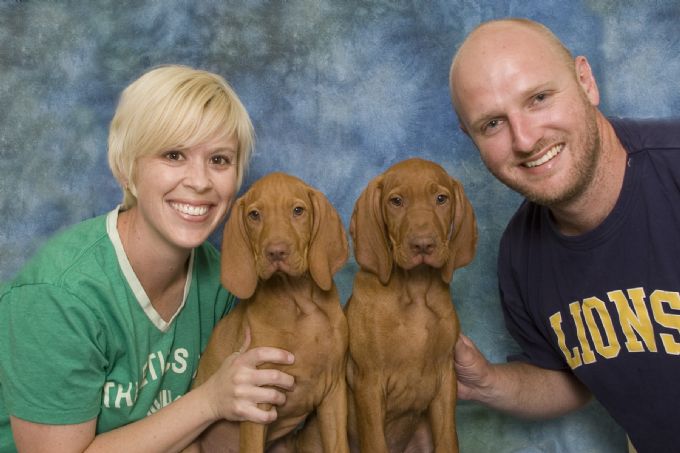 We began our love of the Hungarian Vizsla over 20 years ago. We wanted an active dog that was intelligent and loving (with a short coat). A close friend of ours said his mum had a dog that ticked all the boxes --- a Hungarian Vizsla. We met Jacqui Shaw (Shaunuff Kennels) and our long friendship began.
We bought our first Vizsla – Lucy, from Agnes Pali (Hubertus Kennels) in 2000 and soon after got her a brother – Leroy. Having decided to not have kids of our own, Lucy and Leroy were our children and went everywhere with us.
Our Vizslas are the most important aspect of our lives and in 2013 we moved to a purpose built 1 acre dog property where our dogs can enjoy the space they need. Aside from showing dogs we love hanging out with them at the beach and enjoying cuddles on the couch.
Show Career & Our "Apprenticeship"
Our show career began in 2003 with Ch Hubertus Pannonia Tokaj (Angus). Lara (Gr Ch Hubertus Electric Dreams) came next and was our first Grand Champion. From here we have enjoyed numerous Best of Breed, Best in Group and Best in Show wins. Showing began as a hobby and has now become an incredibly important part of our lives.
Between 2003 & 2012 we campaigned for Hubertus taking 10 Vizslas to their Australian Championship Title and 2 all the way to their Grand Championship Titles. From 2012, we have actively campaigned for Shaunuff (and are still campaigning these alongside our own prefix) taking 8 Vizslas to their Championship Title.
Apart from campaigning show dogs, we assisted and contributed to both of their breeding programs, while in turn learning valuable information about the breed. As schoolteachers we certainly understand the importance of engaging a mentor with unsurpassed experience and understanding of the breed, for us this is Jacqui Shaw of Shaunuff Kennels and we thank her for her mentorship over the years. Once we felt we had a comprehensive understanding of the breed conformation and type we were looking for – we took the leap and bred in our own prefix, Elettars. We are constantly learning and we are committed to breeding dogs for temperament, conformation and health producing "lifetime companions".
Contact Details
Damen & Trish
Caboolture, QLD